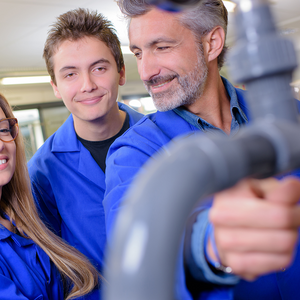 The program consists of 5 hours of classroom instruction immediately followed by a 25 question written exam (1 hour time limit) and a practical exam. A 70% score is needed to pass the written exam, and the hands-on exam is pass/fail.
Students are responsible for bringing their own test equipment! The cost is $195.00 per student. There is a minimum of 5 students to offer a class,
Class starts promptly at 8:00 AM - 4:00 PM.
In the event that a class is not filled, all applicants will be automatically scheduled for the next available class. No refunds will be give less than 5 business days before the class is scheduled to begin.
---
Principles of Hydraulics and Backflow
Cross Connection Identification
Identification and Degree of Hazard
Indiana Code and Regulations
Agency and Consumer Responsibilities
Backflow Prevention Assemblies (BPA)
Application
Installation Requirements
Design
Components
Operation
Diagnostics
Field Test Procedures
Record Keeping/Reporting
Lab Practical Exam-Time Limit 30 Minutes
Demonstration of Field Test Procedures to a Proctor
Demonstration of AVB, Barometric Loop and Air Gap
Diagnostics of Assemblies through simulated failures
Condition
Malfunction
RPZ Leaking 1st

 

Check valve, Leaking 2nd

 

Check valve, Malfunctioning Relief Valve,  Leaking 2nd

 

Shutoff—-Direction of Flow and Backpressure
DCV Leaking 1st

 

Check valve, Leaking 2nd

 

Check valve, Leaking 1st

 

Shutoff,
Leaking 2nd

 

Shutoff—-Direction of Flow and Backpressure
PVB Leaking Check Valve, Malfunctioning Air Inlet, Leaking 1st

 

Shutoff,
Leaking 2nd

 

Shutoff
SVB Leaking Check Valve, Malfunctioning Air Inlet, Leaking 1st

 

Shutoff,
Leaking 2nd

 

Shutoff